Hey there, beautiful! I'm so excited to share with you all the amazing beauty tips and tricks I've picked up over the years. Do you know that feeling of wanting to look on point during every part of your day? Well, today we're talking about how you can take yourself from morning to evening in effortless style and grace! Whether it's a special event or just dinner after work, these 6 beauty tips will have you ready for anything—without having to carry around a full set of makeup in your pocket. Let's dive right into these exciting easy hacks that will help keep you looking fresh throughout the day without sacrificing your glamourous edge.
Invest in a good concealer and foundation
Let's talk about the importance of investing in a good concealer and foundation. Having a smooth and even skin tone is something we all want, but unfortunately, blemishes can get in the way. That's where these two makeup products come to the rescue! A reliable concealer is perfect for covering up pesky pimples and dark circles under the eyes. And a good foundation can even out the skin tone and provide a flawless base for the rest of your makeup. Investing in quality products will not only make your skin look amazing, but it will also save you time and frustration in the long run. Trust me, your skin will thank you for it!
Use a volumizing mascara
If you're looking for a way to make your lashes stand out, volumizing mascara might just be your new best friend. Not only does it give your lashes a boost, but it also adds definition, making them pop even more. The key to using volumizing mascara is to apply it correctly. Start at the base of your lashes and wiggle the wand back and forth as you work your way up. Don't forget to coat the tips of your lashes as well for maximum impact. With just a few swipes of a volumizing mascara, you'll have fuller, more defined lashes that are sure to turn heads.
Try a bold lip color
Are you tired of sticking to the same old nude or pink lipstick shades for every evening occasion? It's time to switch things up and try a bold lip color to really make a statement. Go for a deep red, sultry burgundy, or even a vibrant purple. Not only will it add a pop of color to your overall look, but it'll also give you a confident and daring flair. Don't be afraid to experiment with different shades and find the one that suits you best. So the next time you're heading out for an evening event, try a bold lip color and watch heads turn!
Add a subtle smoky eye
If you're looking to add some depth and smokiness to your eye makeup look, using shades of brown and gray can create a subtle yet stunning effect. Start by layering a matte brown shade onto your eyelid, blending it towards your crease for a seamless transition. Then, add a darker gray shade to the outer corner of your lid and along your lower lash line to create some definition. Use a lighter gray shade to blend out the edges of the dark gray and soften the overall look. Finish with some black mascara to add some drama to your lashes. This technique is perfect for adding some dimension to your everyday makeup routine without going too heavy on the smoky eye.
Accentuate features with highlighter
Highlighter is a makeup essential that can help accentuate your best features. Just a touch of shimmer on your cheekbones can make them pop and add a healthy glow to your complexion. Adding a highlighter to your nose bridge can create a slimming effect and enhance your facial symmetry. And let's not forget about the lips – adding a touch of highlighter to your cupid's bow (the area just above your upper lip) can make them appear fuller and more defined. So, next time you're getting ready to hit the town, don't forget to add some highlighter to your makeup routine and let your features shine!
Create waves or curls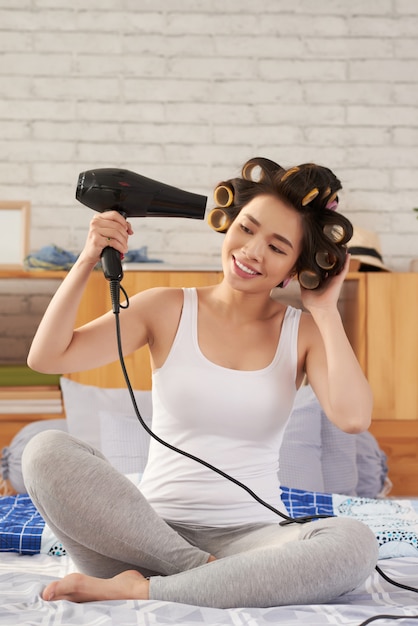 Do you ever envy those who have flawless, effortless curls or waves in their hair? Well, you can easily achieve that same look with just a curling iron or flat iron! It may seem a bit intimidating, but it's actually quite simple. The key is to use the right size barrel or plate for your desired curl size and to take your time. Section your hair off and work in small sections, starting from the base and wrapping the hair around the barrel or plate, holding it for a few seconds before releasing. Remember to use a heat protectant spray to prevent damage, and finish off with a light-hold hairspray for long-lasting curls or waves. With a little practice, you can have soft, effortless hair in no time!