Summertime can be a lot of careless fun, memorable moments, and exciting adventures. It is also a great opportunity to get a beautiful tan and sport some stunning summer outfits. No matter where you are spending your vacation this season, make sure you pay attention to your health and safety as well. By choosing fresh ways to wear sun protection clothing, you can easily combine style with functionality and always stay safe. Have a look at some of our ideas below!
1. Colorful Sunglasses
Don't go anywhere without your sunglasses, hat, and beach cover-up! Colourful sunglasses are one of the most important summer accessories and they are necessary to protect your eyes from the sun. Make sure you have a large selection of sunglasses and don't be afraid of experimenting with various styles:
– aviator sunglasses
– cat-eye style
– oversized
– round shape
2. Baseball Cap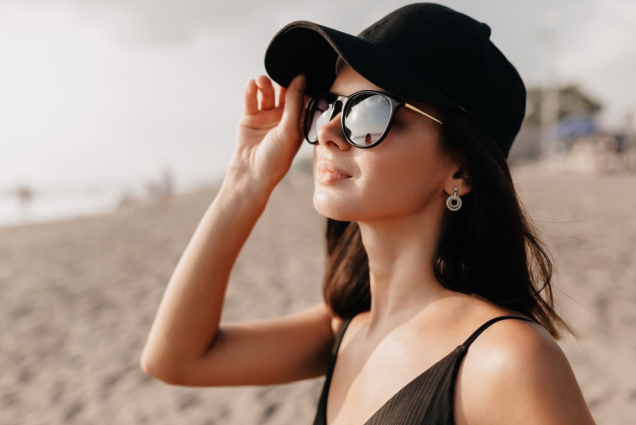 Combine your sunglasses with a cool baseball cap. A great option for all girls who love urban, sporty looks. Choose solid black, white or fun tropical print.
3. Straw Hat
The fashionable hat will not only add some extra style to your outfit but will also protect your hair and face from harmful UV rays. Choose regular size or go for a bold oversized hat that will turn many heads and will look great in your holiday photos.
Wear your hat with boho-style outfits: maxi dresses, shirts, and blouses, jumpsuits, or swimwear. You can also go for a minimalist look such as a white slip dress – have a look at the picture above.
4. Cover Up
A stylish beach cover-up is one of our favorite summer accessories. It not only offers much-needed sun protection but also adds a lot of chic and sophistication to your swimwear. Have a look at the picture above so you will understand what we are talking about! Talking about sophistication… Our last outfit is the best example of how you can use sun protection accessories to create a unique and memorable summer look.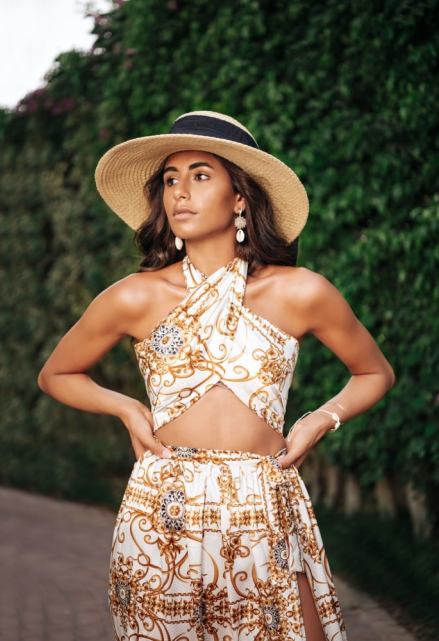 Styling tip: don't shy away from jewelry during summertime, but make sure that whatever you wear is suitable for the occasion and not too heavy. Avoid dark, overwhelming pieces. Opt for a lighter color palette and fun design. Match your earrings with your hat or sunglasses, go for a statement necklace or boho bangles. Good luck with creating your unique summer style this season!