Let's talk about something super exciting today: first date! As we all know, what we wear that evening is super important. As it not only gives out the first impression about our personality but also affects our mood. Confidence throughout the whole night.
While there is no secret formula for how to make your first date a total success. There are certainly certain styling tips that will help you achieve an amazing, beautiful look. And that's super important too! So to make your next date a little bit easier and less stressful. We prepared a couple of our favorite options that are quite universal and will work for most ladies out there.
You can always customize a selected look by adding a longer skirt or putting a stylish blazer on top. Let's start!
Look Number 1
A simple dress in eye-catching red color is always a good idea. Combine it with a classic hairstyle and natural, fresh makeup. Make sure you don't go over the top and don't try to be too sexy. Look super perfect on your first date.
Most men would like to get to know the real you, not a totally fake version that looks very different in her everyday life. Try to look your best, but don't try too hard!
Look Number 2
If you don't like to experiment too much with your look. Especially before your first date, go for a classic LBD (Little Black Dress). Combine it with some colorful accessories to make your look less serious and more approachable.
Don't forget to add some red lipstick to achieve that extra Wow factor! Look Number 3 A great equivalent to a black dress is a jumpsuit. This piece of clothing is super popular this season and it will look very stylish and up-to-date. You can choose an interesting asymmetric cut. An open back, or go for a model with some cute raffles or a decorative bow in front.
Look Number 4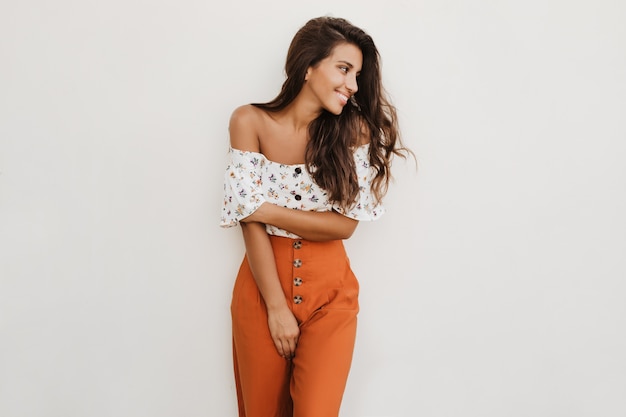 Wearing trousers to your first date may not seem like the best idea at first however it all depends on the type of your pants and the way you will style them. Also, keep in mind that your first date won't always be in a fancy restaurant where you are required to follow a certain dress code.
If you have been invited to a more casual setting, consider wearing something you feel comfortable in and will be able to move around. A stylish pair of trousers can be combined with a sexy off-the-shoulder top and beautiful flat sandals in gold or silver. Look Number 5 Our last look combines sex appeal with style and is suitable for all those girls who are comfortable showing their legs off. Wear your shorts or mini skirt with your favorite pair of stilettos to make your legs look even longer.
Which look is your favorite? Don't forget to leave a comment below!