Floral print dresses are a sign of freshness and give peace to the mind. In the spring, girls prefer to wear floral dresses. It will give you a gorgeous look for all the occasions. It can suit all body types. Floral dresses will give you a simple and casual look and you can comfortably wear them for any event. Here are some elegant floral dresses that should be there in your wardrobe.
One-Shoulder Mini Dress
This elegant floral print one-shoulder mini dress will give you a sexy look and enhance your curves. It is featured with one-shoulder cut full sleeves which highlights your beautiful hands and shoulder. It has a tie belt on the waist to give you a curvier look. The mini length of the dress helps you show your sexy legs. The beautiful floral print gives you a fresh look that is perfect for a decently romantic date.  
Strapless Mini Frock Dress
This elegant blue floral dress is perfect for a casual party. This beautiful dress is featured with a sleeveless blue floral print frock which gives you a chic look. The heavy plates on the waist give this dress a blowy look. You can combine this dress with a slim blue belt to enhance your curves. You can wear it with long brown leather heeled boots and matching earnings to complete your look.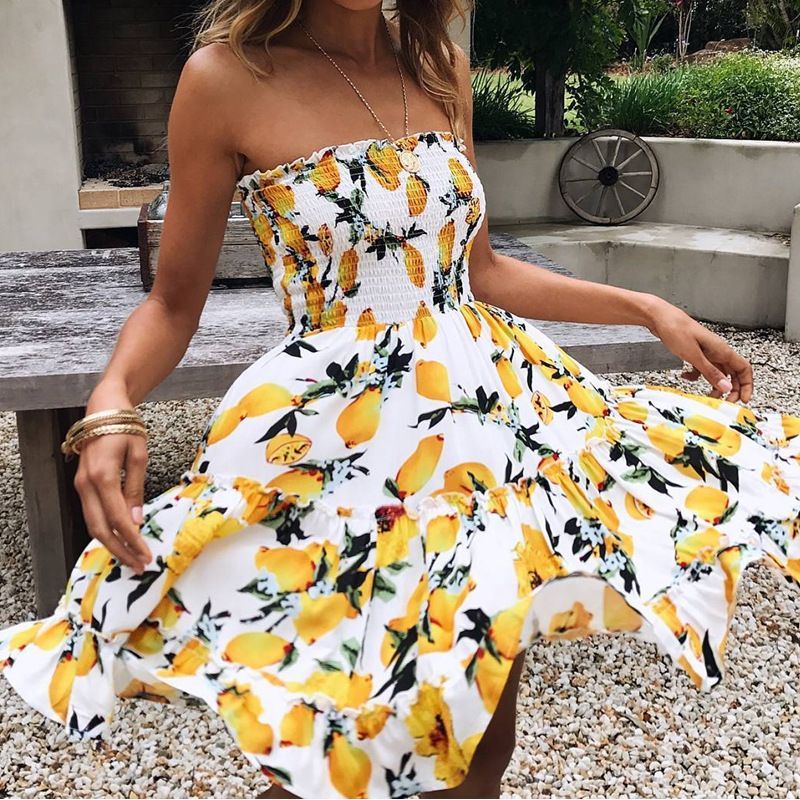 Strapless Gown
You can glorify your look with this full-length strapless dress. This beautiful long floral print dress is featured with a chiffon neckline that gives a hot and bold look and you can also show sexy clavicle. It has a back zip which makes the dress easy to wear. You can pair it with heels and complete your look with matching earrings and a beautiful pearl bracelet.  
Asymmetrical Gown
It is a beautiful asymmetrical gown with a beautiful rose print skirt which will look perfect for the prom night or any party. People of any body size can wear this dress. This dress is featured with a plain black sleeveless blouse with a beautiful floral print skirt attached to it. This dress has a back zip which makes it easy to wear. Pair it with strapped open-toe heels to complete the look.
Round neck midi
It is an elegant and beautiful blue floral sleeveless midi with a round neck. This dress will give you a casual chic look. This decent dress is perfect for any casual meeting or date. It has a high pleated waist. You can combine this dress with white strapped heels and beautiful stud earrings to complete your casual look.