It might be challenging to dress for the chilly months! The more you think about venturing out into, the colder weather, the more you convince yourself that it's best not to leave your warm little nest in case you catch a cold. Finally, you persuade yourself that a comfortable stay at home in front of the television with a cup of hot chocolate is a much better alternative! However, with age comes knowledge, and the days of insisting on a bare-back little dress without a jacket in the middle of July have ended!
Sparkly spark
The objective is to find everything that glitters. For example, a sweater-skirt combination and many sparkles may enhance a winter night look. If the sequined fabric isn't sparkling enough, add more glitz with rhinestone-accented jewelry, dangling crystal earrings, and sparkly undergarments.
Blackish Purple Minidress
Nothing gives you a polished appearance like a Little Black Dress throughout the party season. Black party dresses are a fantastic investment because they are constantly in style. You'll be the one to watch throughout the celebrations if you wear your favorite LBD with a pair of striking high heels and spectacular jewelry!
Obsessed with Leathers 
Happy hunting, leather lovers! It's your season now. First, wear a short leather dress with thigh-high heels to channel the biker babe look from the 1980s. Then, put the finishing touches on the ensemble with polka-dot stockings for a feminine touch and a knit beanie for added protection from the brisk weather.
Icy Look
Even though white is frequently worn to summer celebrations, it makes a bold statement in the winter and will make you seem like an ice queen. Choose this silky, sequin-adorned dress, and you'll be breaking hearts and turning heads! White party dresses might be your go-to style this season if you pair them with some strappy shoes and assurance. Just remember to apply a fake tanner!
Knitted Midi Dress in Oversize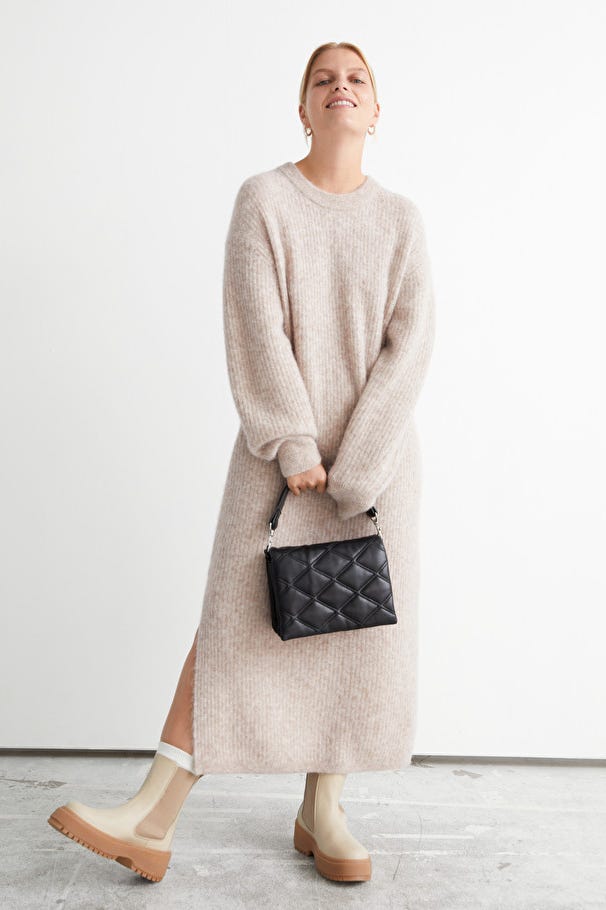 For a low-pressure date like browsing the farmers market, a maxi sweater dress looks carefree. If the two of you get along, you can get some lunch and continue the chat elsewhere.
Florals are still in trend.
This winter party season, opt for a dark floral design to keep it feminine and traditionally stylish. Choose flowery patterns with darker tones to give off a more wintery mood. Making the base color of your pattern black or perhaps a dark blue tone would work to pull off this effect. This will make the flowery print more prominent and have a striking contrast. Try adding a black leather jacket or a gorgeous fedora to your ensemble to create a more casual daytime look.
Black laces are never old.
It's a never-ending trend; you can't discuss winter fashion trends without mentioning sheer lace elements! A fancy evening cocktail gathering calls for alluring black lace accents. Although it could be considered more of a classic than a trend, it must be highlighted when discussing winter party attire. Sheer lace is highly adaptable and flattering on all skin tones.
It is also simple to switch from traditional to modern fashion. Maintain a timeless elegance by using just black accessories and gold accents!
Conclusion
What are you waiting for? Try these trends at your upcoming Winter party event, and you'll get everyone's attention! Read our articles on winter fashion trends for further styling advice.