Are you a 90's babe and got your fashion inspiration from Britney Spears, Christina Aguilera, and the Spice Girls? Remember that crop tops fashion back in those days? If you don't know already, crop tops have evolved to be one of the major fashion choices.  Every girl should have at least one crop top. Why did you ask? Because it is super comfortable and no matter if you have a button-down crop blouse or a bralette, crop pieces are perfect for any occasion. These chic tops are highly versatile and can be dressed up or dressed down. Styling a crop top with a pair of shorts or denim is easy for a daily casual look. Pair it with a pair of leather pants or a maxi skirt over a blazer for a more formal look. There is no age limit when it comes to owning a crop top. Stars like Kim Kardashian and Gigi Hadid adore crop tops and the fashion runways are full of them, so why shouldn't you go for this trend? You can wear it as long as it makes you feel comfortable.
If you haven't got yourself a crop top and would like to learn what are the ways to bare your midriff in style, well, you will be excited to know that you have come to the right place.
Different Ways To Style A Crop Top
Let's look at some tips on how to style a crop top. 
Wear your crop top with a high-waisted skirt, whether it is an A-line midi skirt or a pencil skirt. As long as it is highrise, you are safe.
Show a bit of skin to maintain a classy poise.
Choose a polished fabric for a sophisticated look.
Keep it simple by letting all of the attention go to your crop tops. Don't want to overdo it.
For some style inspo, ahead are some of the stylish ways you can elevate the crop top for a brunch with friends or for date night. Go ahead and scroll down.
A Black Crop Tee
Just like the little black dress, a black crop top can be styled in so many different ways. Best of all, the classic monochrome look never fails. Instead of pairing it with jeans, you can dress the top up with leather pants and a sexy slide heel. Accessorize with a necklace, and earrings, and put on a pair of oversized sunnies to tie the look together.
Graphic Print Crop Top
A cool way to show off your artistic side is to go with this graphic print crop top. This look is all about expressing your creativity, so don't be afraid to venture out of your usual neutral palette and pick something whimsical like this print.
Denim and Denim
The denim-on-denim is a classic combination that instantly gives out a sexy vibe when paired with a crop top. This look with a bright red crop top gives the all-over denim look and a splash of color. Celebrities like Bella and Gigi Hadid have been photographed many times in denim on denim so do not be afraid to channel your inner model the next time you step out of the house.
For A Night Out
For the next time when you want to paint the town red, try a crop top that shows a hint of skin.  Elevate your look and make it nighttime appropriate with a floor-length skirt.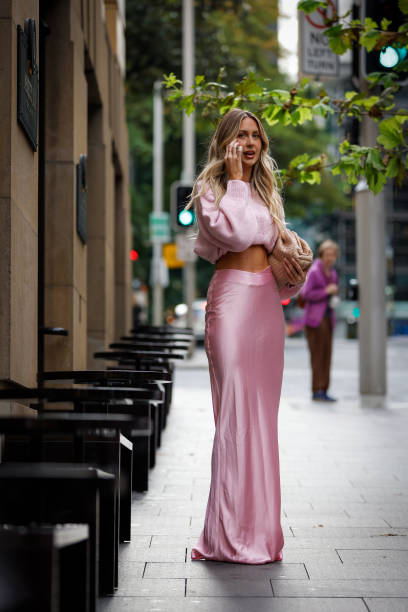 Matchy With A Suit
Give your matching a sexy touch with a sliver of skin. The white crop top is ideal to break up the full suit look. You can wear the jacket closed for a more conservative look or leave it open.