Summer is coming soon, I'm so looking forward to it that I can't explain it to you. I need a good vacation somewhere on the beach by the ocean. That is why I am writing about this topic with so much enjoyment. I'm just looking for the perfect swimsuit for myself, so I'll share my choices and thoughts with you.
Let's go, this is my choice. You will be very sexy and attractive in these models. Everyone will look at you and admire you.
I always have one black bikini. He never goes out of fashion, men love classics, and you will surely be elegant. I prefer to wear a black bathing suit on the first days of vacation because black attracts the sun, so I have the impression that I turn black so quickly. There are too many models, from sporty to elegant. I am always for elegance, but I understand even if comfort and pleasantness come first. Even sports models with beautiful bodies look very attractive. I like black bikinis that have some silver or gold detail. I'm just a little drawn to the retro style. Just like in the picture. I like the bottom with the binding, it's very sexy for me personally.
The next model is a white swimsuit. It looks so good on tanned skin, so I like to wear it at the end of the holiday. By then I'm already black enough, and that contrast makes me even more beautiful and desirable. Somehow, whenever I imagine white swimsuits, I also have a white shirt in my head. It is something that makes our style casual and relaxed, and at the same time very chic.
How to bypass red? The woman in red is always sexy. Here I was hesitant between a two-piece and a one-piece swimsuit, but I'm still a little more for a two-piece. I love when I can sunbathe and highlight my stomach. To see the hours spent in the gym. If you haven't had a red swimsuit before, you must this summer. And I will wait for you to let me know your impressions, was I right. You will be a real fire on the pool or pool.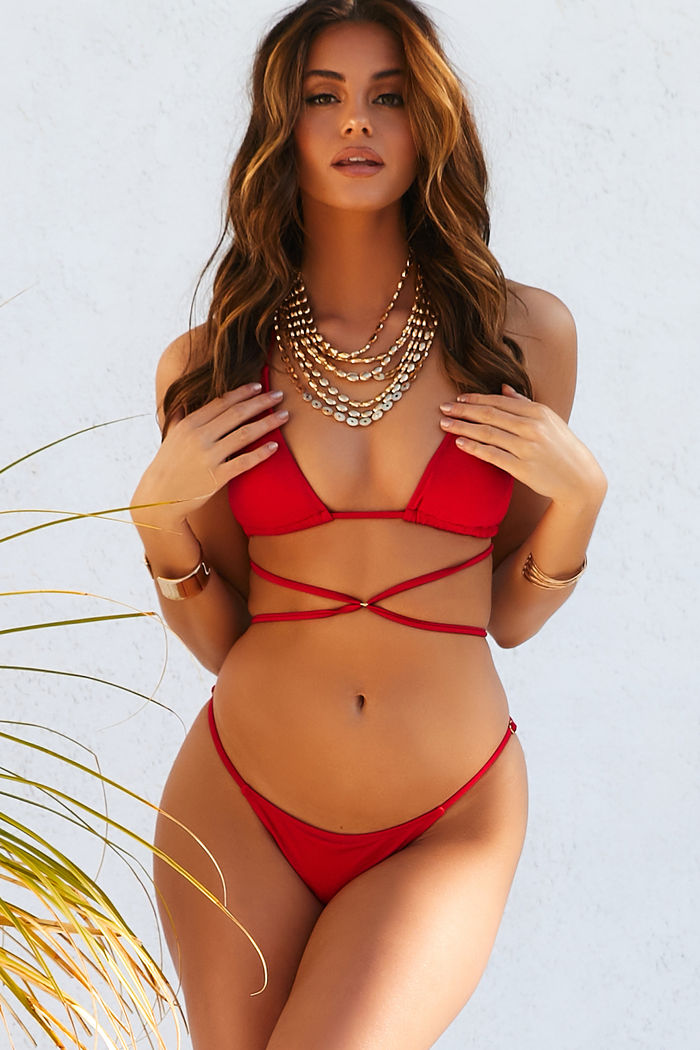 Off shoulder, the bikini is a must-have. Nothing more beautiful and sexy than a woman's shoulders. This type of swimsuit gives a dose of elegance, especially if worn over some scarf, or good jewelry. This is always my favorite model, and if I had to opt for just one, it would be this one. How do you feel? Take a look at this model with corners. Careers are always a special story because they give a feminine look. Just like that with a big hat.
And finally one one-piece model. As much as I avoid it, these models know to be very sexy. One should only dare to take them. There are also some in classic colors, but now I want something flashy and bright. I want to bring positive energy to the beach, so the choice is this color. As for the model, I might choose one with a belt because I think it's one plus in achieving a sexy look. When a woman emphasizes the waist it is very attractive and looks beautiful. What colors do you like?