Summer is a fantastic opportunity to freshen up your style and add some interesting handbags to your collection. We selected 5 different bags that can glam up any look and are suitable for various occasions. Have a look at our selection below and get inspired!
1. Bags for Summer in the City
Even if you are spending most of your summer in the city, you can still achieve a relaxed yet chic look as you've just come back from a beach vacation. Choose a small handbag with bamboo handles and tropical print and colors. You can wear it during the day or for a night out. It will hold your phone, purse, and lipstick. What else is needed?
2. Party Bags in Style
If you have a special event to attend and you need to dress up, there is nothing better than an elegant clutch with a gold chain. It will look amazing with a variety of summer dresses, a stylish jumpsuit, or a classic Little Black Dress. Make sure you choose matching accessories such as gold stilettos and elegant jewelry. When it comes to the summer color palette, we recommend investing in a couple of trendy colors such as turquoise, mint, ultramarine, French blue, and raspberry sorbet (similar to fuchsia but more toned down, not that intensive). The bright clutch is a perfect summer wardrobe addition so keep your color palette vivid and bold. It's time to shine!
3. Urban Vibes
If you are one of those girls who adore sport urban look, you will like our third option. A comfortable cross-body bag can be matched with your outfit as in the picture above or quite the opposite – you can choose a contrasting color and make it stand out. Effortless yet very stylish look. Highly recommend it every day.
4. Weekend Away Bags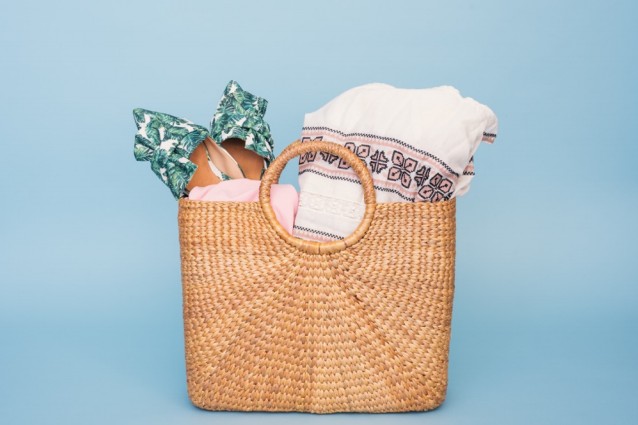 If you are planning a trip outside of the city, choose a large basket bag where you can put all necessary items without having to worry about a lack of space. Woven straw bags have been with us for a couple of seasons now, but this fashion trend is still going on this summer, so make sure you own at least one of those cute handbags. They come in a variety of shapes and sizes so there is something for everyone to choose from. Wear yours with classic espadrilles, flat sandals, comfortable tennis shoes, or sneakers. A basket bag can be worn with both jeans (and a T-shirt or blouse) and feminine summer dresses.
5. Ready for Work
Spice your office look up this summer and invest in new bags to keep your look cool and sophisticated. Add a pair of oversized sunglasses when you are going out for lunch.