Ladies' watches, much like handbags, jewelry and shoes are an important investment. Watches have always been an important accessory. And this year especially when it feels like time is slipping away, watches have become even more necessary. Beautiful watches are one of the most polished accessories a woman can have. It is a piece that simply elevates the simplest outfit. Wrapping a watch on your wrist with the simplest outfit like jeans and a t-shirt can make you look put together.
A woman wearing a watch makes her look seriously intelligent, punctual, and elegant. A simple watch can give you that sophisticated, cultured, wise, and modern look. In short, a woman who needs to keep a tab of time and move quickly looks effortlessly stylish and elegant. If you don't own a watch, it is time to invest in a timepiece that is stylish as well as affordable.
However, choosing the right watch for your style and needs is important. There is a wide range available in the market which makes it difficult to choose. We recommend having a few options for different occasions. A regular leather band watch is more for casual wear, the ones with some bling are great for black-tie affairs and parties. There are luxury watches with lavish price tags for special occasions and the latest is the smartwatches that are chic and trendy. Hence you need a few watches in your wardrobe for different occasions. So, whether you are into pretty, elegant, and delicate watches or bigger oversized ones. You need a couple in your jewelry box.
Fashion Watches
A woman wearing an elegant, dainty watch that looks like a precious jewel is undeniably charming, radiant, and fierce while she shines from within.
This beautiful and stylish Swiss-made classic timepiece is more like a sentimental heirloom piece that will be transferred from generation to generation. This one is an investment that will stay in your family forever.
Some watches gain popularity due to social media. And this brand has been trending on social media due to the influencers wearing them on Instagram. Nonetheless, these watches are a beauty in their own way. The mixed metal design on this one is modern, elegant, and stylish.
The smartwatch trend has become the must-have for most of us. The cutting-edge technology offers multiple advantages of wearing a smartwatch. It helps to monitor your health data like heart rate, step count, gym stats, while also helps with messages and notifications with all your reminders. So you are ahead of time. While looks stylish and cool on your wrist.
Affordable watches with lots of bling and shine looks very pretty and attractive when paired with other dainty bracelets. The one below is super cute and fashionable.
Watches with rhinestones and shiny bling looks cute and girly. Besides these are very affordable so you can add a few styles and colors to your collection to match the different outfits you wear.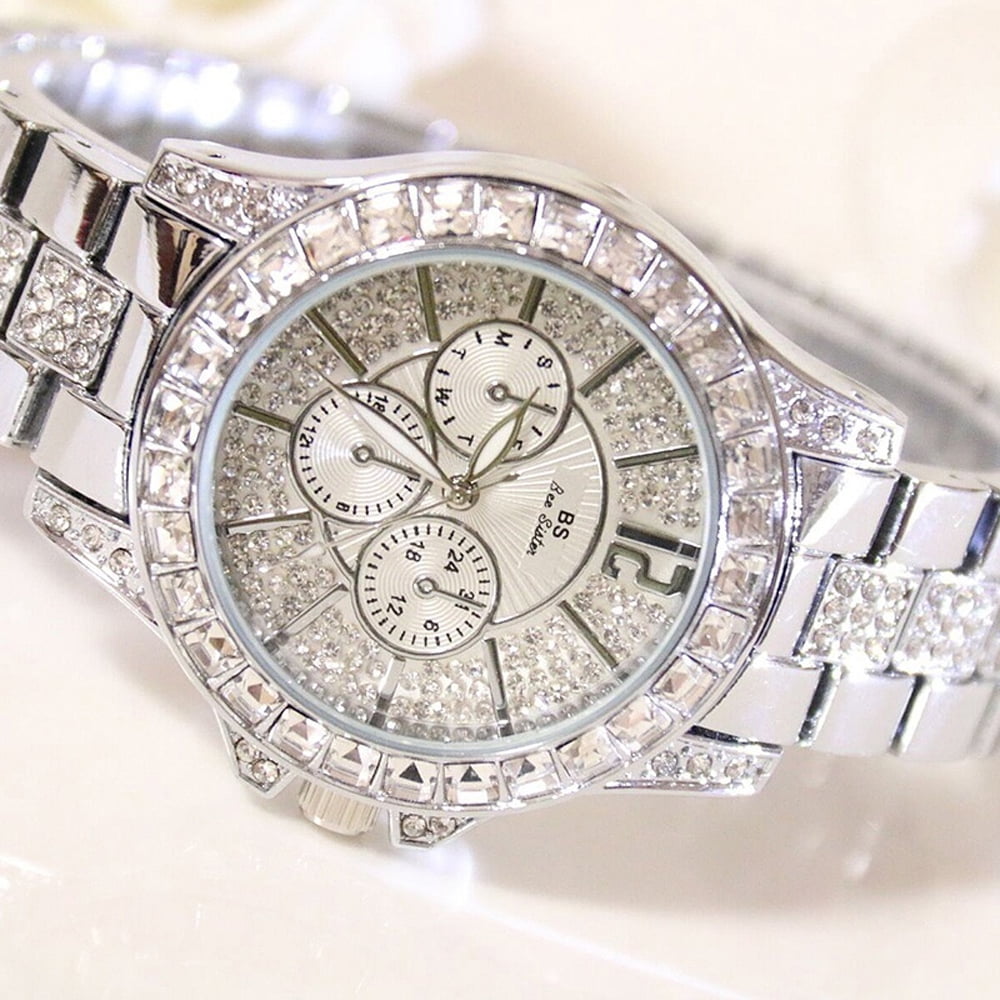 Choosing an elegant watch should not be a problem anymore. There are loads of options available from expensive to affordable watches.