Are you looking for an off the shoulder jumpsuit this summer season? Several ladies need to know how to style this type of corset and how to accessorize it so as to get a chic look. When styling a jumpsuit, here are some factors to consider; a skinny jumpsuit compliments well with flats, heels, or sneakers. A wide-leg off the shoulder jumpsuits compliments well with heels or platform sandals to give you a taller and slimmer look. However, in the case of ruffles on your shoulders, avoid necklaces or go for simple looking necklaces.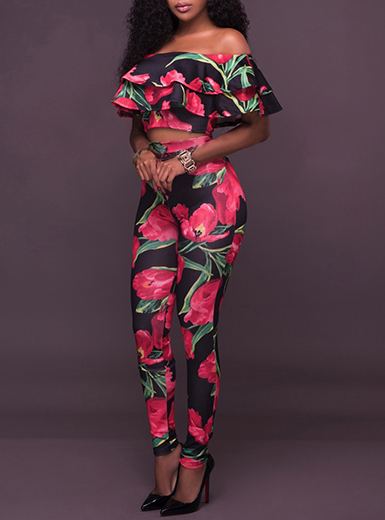 Here is how jumpsuits are supposed to fit. They should be fitted at the waist and loose at the legs for a more flattering look. In case you are tall, wide-legged jumpsuits are the recommended type for you. Here are some of the best off the shoulder jumpsuits that work well for you.
Women's 2-Piece Strapless Crop Top and Pants Suits
This jumpsuit comes in a variety of sizes. It is the perfect outfit for you whether on vacation or looking for a cute outfit to wear around during a high-temperature season like summer. It features a strapless crop top and pants suits. It is made of high-quality cotton-blend fabrics with admirable floral prints. It is up to you to choose the color you feel is right for you. There are a variety of options for you to pick on: pink, bright red, pale fern green, or lavender.
The top of this jumpsuit has a wide elasticized neckline for a secure fit, a wide ruffle to cover the bust, and an elasticized hemline that ends 4" below the bust. It lacks buttons, snaps, or zippers. Its pants are high waisted and with a close fit.
WMNS Knee Length Jumpsuit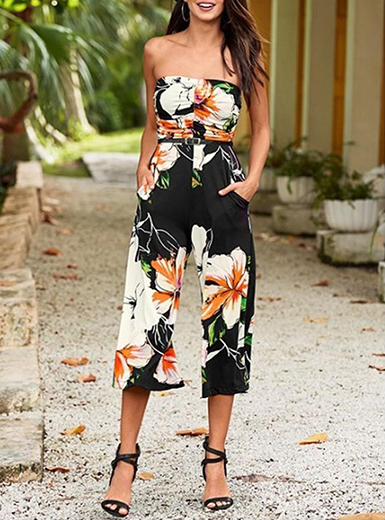 You will definitely fall in love with this jumpsuit because of the comfort it offers. It has wide legs giving you that cool feeling when worn during the hottest days of summer.
It comes with a strapless design to expose the target areas of your skin without wearing a bikini. There is also a side pocket design and comes with admirable floral prints.
Women Sleeveless Jumpsuit
I am sure you will be fascinated by this unique jumpsuit. It has an elasticized neckline and wide legs. It is made of a soft brush cotton blend fabric and comes in a variety of colors and sizes. It has an elasticized neckline that is wide to show off your shoulders, upper chest, and back. It has a wide leg and a loosely fitting torso. Select this rainbow-colored vertical striped jumpsuit for a chic look.