vening or dinner gowns have been a traditional dress of many western countries. But in India they are a new trend set in motion by few creative fashion designers. The past few years have seen tremendous changes in the design of gowns with leading fashion houses competing with each other to create new and unique designer gowns. Indian ladies are now in luck as they can shop Indian designer gowns online and save the trouble of browsing various stores looking for the perfect gown. Today we give the 5 best looking celebrities who appear heavenly dressed in Designer Gowns.
Priyanka Chopra
We love Priyanka Chopra with her sexy attitude and bold looks. Be it a movie scene, a red carpet event or any casual occasion – she is known to possess the ability to carry off anything she puts on. She is ever appealing and when we saw her dressed in gowns, the beauty of it almost made us faint. Let's see how you react to the sight!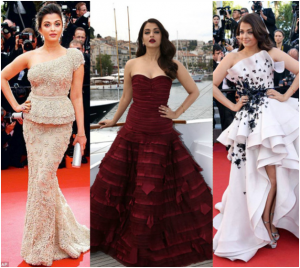 Aishwarya Rai
This former Miss World looks elegant and amazing in whatever she wears. The magic of her green eyes renders a magic spell to her appearance that is hard to break out of. Fair skinned, green eyes, perfect figure with angelic looks –combine these along with a exquisite designer gown and you have the most complete picture of beauty ever created. Luckily for Indian women there is opportunity to shop Indian designer gowns online and fulfill their own dream of looking like a Bollywood diva!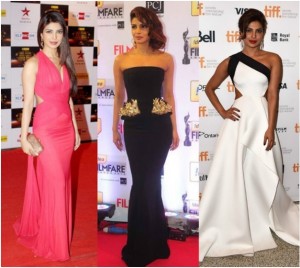 Anushka Sharma
The sweetest face of Bollywood knows how to attract attention by the way she dresses. Her flawless figure and glowing complexion strikes the perfect balance with the type of clothes she chooses. She definitely is master in walking around wearing designer gowns at many red carpet events. Anushka's fashion sense makes her the perfect example of exotic in every sense. Here's a glimpse of her flaunting beautiful designer gowns.
Sonam Kapoor
Sonam is undoubtedly the most fashion perfect celebrity in Bollywood. She has a flare for selecting chic and completely unique range of attires. She would be the ideal teacher if we were conducting a class on something like 'How to dress to turn heads.' When it comes to gowns, she has been seen sporting creations of International fashion designers like Dolce & Gabbana, Dior, Elie Saab with utmost confidence and attitude. Now you can also be fashion perfect like Sonam and shop Indian Designer Gowns Online. Maybe you would prefer a design just like her!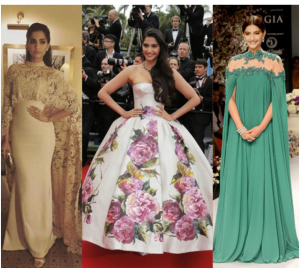 Deepika Padukone
Deepika is our very own Bollywood sweetheart who knows how to win hearts with her appearance. She is choosy when it comes to dressing and selects her dresses with care. Her glamour and dashing looks make a hit with anything that she puts on. She has a thing for gowns and has been caught many times in events wearing one. Awestruck, increased heart rate and amazement – that's what Deepika in a designer gown makes us feel!