We're always following the latest trends in prom dresses 2013 and accessories. Whether it's high-low dresses or mermaid, we always know what's in. One of this year's unique features on a dress is the transparent tulle or material on the skirt of the dress. The skirts on the dresses could feature a slit, beading, stones, and even lace. Torn between wearing a short or long dress for your next occasion? With a style like this one you don't have to be! Many of these dresses look like short dresses with additional material added onto them. Here are a few styles that can be an option to your next event.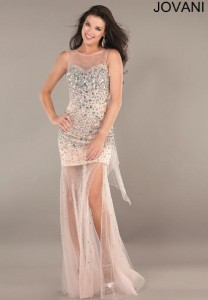 How about this beautiful blush prom dress by Jovani style 2664? It is super stylish! Sheer material covers this fitted dress from top to bottom. Sheer straps are great to give you support. Chunky iridescent stones and small stones are placed throughout the fitted part of the dress. Small iridescent stones are placed throughout the skirt and neckline. Even though you're already showing off your legs, a slit is an additional feature to this dress. Available in the color featured above, blush, as well as aqua and blush. Pair with iridescent earrings and a bracelet. Match your shoes accordingly and you're ensemble is complete!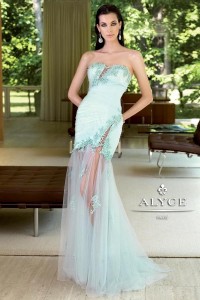 This strapless Alyce prom dress style 6050 also features a transparent tulle skirt. The dress is covered in tulle overlay where it's ruched in the bodice. One cutout is placed on the neckline and the other is placed towards the bottom of the dress. A sexy slit is also added by that cutout. Gorgeous lace is placed along those cutouts and along the dress. Patches of lace are also spread throughout the skirt of the dress. This dress is available in black, nude, pink, and the color pictured above, hush. This sweet and delicate dress is perfect for any occasion in the summertime. It's very lightweight and comfortable to wear. Pair with Silver accessories.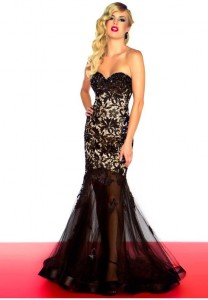 If you need an elegant evening gown, look no further than this MacDuggal dress style 6342R. Available in Black/Nude and Red/Nude, this dress screams pure elegance. For both colors, lace is placed over the nude underlay of the dress. The skirt also has patches of lace on it. The sweetheart neckline is accented with beautiful beadwork. Make your lips pop and look sexy with red lipstick. Slicked back hair in a bun will make you look sophisticated. Really work with this style of dress and you will stand out no matter where you go!