If you feel your days are getting chilly and the air is getting colder, it's time for you to change your dress style. Honestly, this is the best part of winter, the fashion! Winter always brings exciting fashion trends to steal and follow. And this year's winter trends are all about layers.
Layering is the surest way to add warmth and coziness to your outfit during this freezing season. Even though it looks easy, in fact, mixing and matching several layers of clothes should not be done haphazardly so that your outfit doesn't seem either boring or outdated. Of course, you can still dig into your closet and put on the warm clothes you already have from last winter. However, to give a more lovely and trendy touch, add items that are currently popular this year.
Find out 5 fabulous winter outfits you can try by scrolling down this article. But before we get there, let's take a peek at the key pieces for this winter fashion trend!
Oversized Layers
Since the beginning of this year, loose-cut clothing has been stealing a lot of attention, from blouses to pants. Even oversized clothes are no longer a seasonal trend but have become part of basic items. This winter is no different, oversized outerwear now dominates the market. The design variations are now increasingly diverse, not always fixated on boyish styles. Feminine and chic style can be achieved through this supersize silhouette as well.
Bold Colors
Winter is usually interpreted with gloomy colors and a cold impression. But this year, designers and fashionistas have agreed to stick to bolder colors. As quoted from Marie Claire, purple, marigold, light brown to bright pink can be trendy options for those of you who want to look fancier in this blistering cold. If you are bored with dark and somber colors that blend in with the freezing air, pick up one or two bold-colored items to emphasize the 2022 vibe.
Texture And Pattern
Textures and patterns will make your outfit more interesting. Patterns like houndstooth, pinstripes, chevrons, animal prints and the ever-popular, floral prints are a trend that many designers are bringing to their winter collections this year. Adding patterns to an outfit will take the boring look out of your layered winter outfit.
Meanwhile, if you want to stick to a minimalist style, play with textures. Wearing leather jackets, oversized puffers, fluffy coats, and knit cardigans over the layers of your lighter, plain clothes underneath can really make you look stylish. Textured and oversized outers are the main hunts for this season, you know.
Well, if you hold the keys, it will be easier for you to mix and match the items you have in your closet. To give you more ideas, check out these 5 fabulous winter outfits below!
1. Combining two similar items that are currently popular, why not? Knitted dresses and cardigans are both on the rise this year. Chunky knit cardigans are a classic layer that can never go wrong in winter. Warm, comfortable, and of course, stylish. For added drama, pair it with a loose-fitting, creamy cable dress at the same length. Give warmth to your feet by wearing cozy leggings or baggy jeans, then complete your look with vermilion mules. Aren't the color combinations adorable?
2. Floral skirts are all over the place during fashion week events throughout the year, this is a style you shouldn't miss either. Pick up a flowy floral skirt and pair it with your black leather jacket. Biker jackets never fail to give a cool and edgy impression. Even though this jacket is more often worn with pants, that doesn't mean you can't experiment with something chicer. This contrasting combination will look fierce and even more stunning with a pair of maroon boots and eye-cat sunglasses.
3. Teddy coat is one of the popular oversized outers all the time. In winter, it becomes a staple that adds warmth to your outfits. Besides being comfortable, the teddy coat can be layered with any attire and it always looks adorable. Try this feminine and classy look. The combination of a comfortable turtleneck, leggings, miniskirt and teddy coat will make anyone's jaw drop. Strappy boots, cute beanie hats, and sling bags are accessories that you shouldn't leave behind.
4. A furry coat can be a statement piece that can magically turn an outfit as simple as a pair of jeans and a basic top a thousand times more fashionable. Don't believe it? Try this effortlessly stunning style and let people admire how fabulous your winter fashion looks. Remember, this is not your granny fur coat, so instead of wearing a plain fur coat, adopt a more 2022 style by wearing a coat that is bolder in color or patterned. Classy!
5. You may be someone who doesn't like thickly layered styles, then give this outfit a try. The point is to choose the right insulating layer to help you deal with cold temperatures. Opt for turtlenecks made from wool, fleece, or flannel that are warm but breathable. Layer it with a pencil skirt and oversized ribbed knit cardigan in a neutral color. For a finishing touch, wear a belt for added elegance. Grab your lace-up boots and you're done.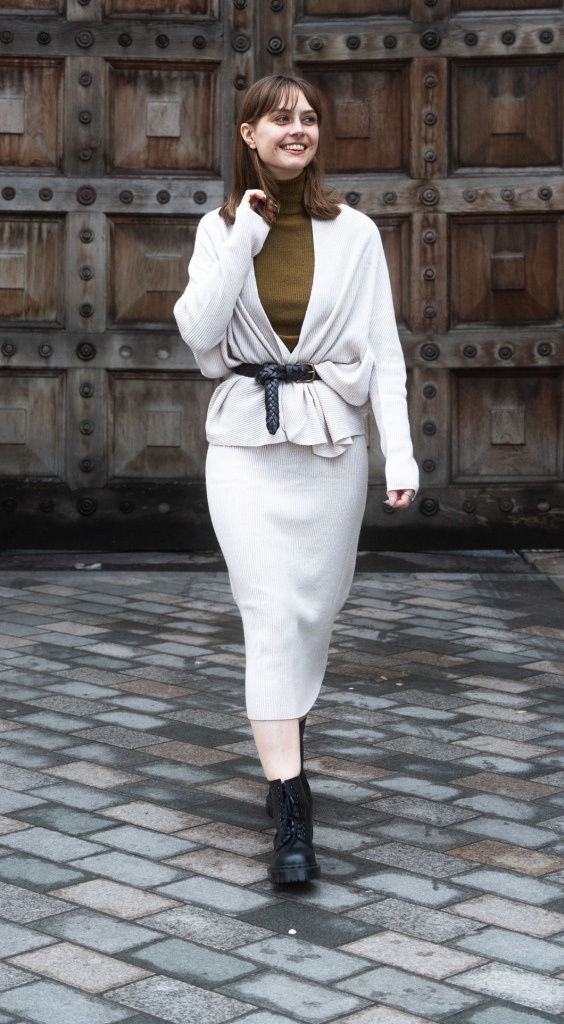 Winter is a great time to show off your layering prowess. So, instead of clinging and lazing on your cozy couch, why not let your body get a bit of vitamin D from the glimpses of sunlight out there? Hope the 5 fabulous winter outfits above inspire you then!