As we are weeks away from saying goodbye to 2022, most of us will be either attending annual galas, office parties, holiday parties, get-togethers with friends, or planning a vacation. It is time to get ready and dress for the holidays and party to welcome the New Year. Prepping the look where the celebrations begin and it can be as thrilling as the event itself.
Is there a dress code where you are going to? Festive attire? Creative black tie? Whether you are going to a dinner function or cocktail party with friends, or even a charity gala with your co-workers, it is the season to make memories with the most memorable look.  As the invitations start to roll in and you are busy marking your calendar, things can be a little overwhelming especially when you start to think about the different outfits you have to put together. Well fret not and don't let the amount of socializing that is coming to your way scare you. We have put together 8 fashionable outfits to look elegant at any event and will help you sail through this season of good cheer.
Sequined Blouse
Get ready to paint the town sparkly with a sequined blouse that is a must-have holiday wardrobe top. The shiny blouse is the key to one-and-done festive dressing. For a business look, layer it with a tailored jacket and pencil skirt. For a bold look, you can even grab a pair of matching sequin pants and channel the groovy '70s vibe. Nothing compares to pairing this top with your favorite pair of oversized vintage wash jeans. Keep the accessories to a minimum as the blouse itself is an accessory.
Maxi Skirt
It is time for the minis to move over and let the new 'it' skirt in town take over this holiday party season. Besides appearing at several fall '22 runways, it also made a splash in resort '23 collections and was sported on Fendi Valentino to Burberry. Whether you are planning a night out with friends or attending a sophisticated formal do, the maxi skirt is going to elongate in a flattering way.
Cocktail Dresses
Festive attire is all about glitz and glamour. The foundation of a holiday cocktail dress is in the material and trimmings that consist of sequins, feathers, and tulle. Hemlines are short and you can opt for a low or high neckline.
Midi Skirt Outfit
A navy skirt pairs well with a pullover sweater in the same color. This look is great for more casual parties or get-togethers with friends. Add on a pair of sparkly heels, and you are all set for any soiree.
Black Dress
When in doubt, can you ever go wrong with a classic little black dress and matching heels? Absolutely not.
Party Jumpsuits
Jumpsuits can be either dressed up or down and thus making them perfect for throwing on to attend a Christmas party. Lean into the 70's vibe with this ultra-glam jumpsuit that is seductively cool.
One Shoulder Dress
This dressy twist on the dress is both stunning and comfortable. It is the ultimate party dress combination. To show off the neckline, just add a statement necklace or some shoulder-grazing earrings.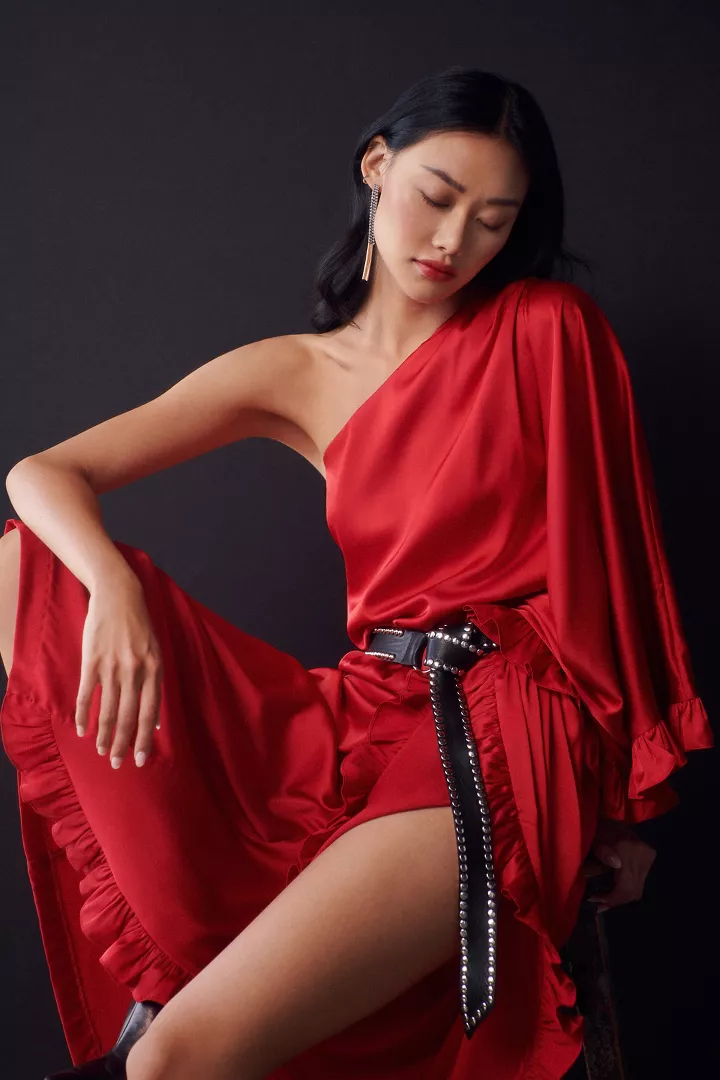 Feathered Top
Nothing says Party more than this fabulous, maximalist feather top with a lace-up back. The pink shade looks gorgeous on all skin tones and will stand out from the sea of metallics and blacks at your next holiday party. Pair it with pink wide-leg pants for an elevated look. You can also opt for a pair of high waist jeans for drinks with friends.