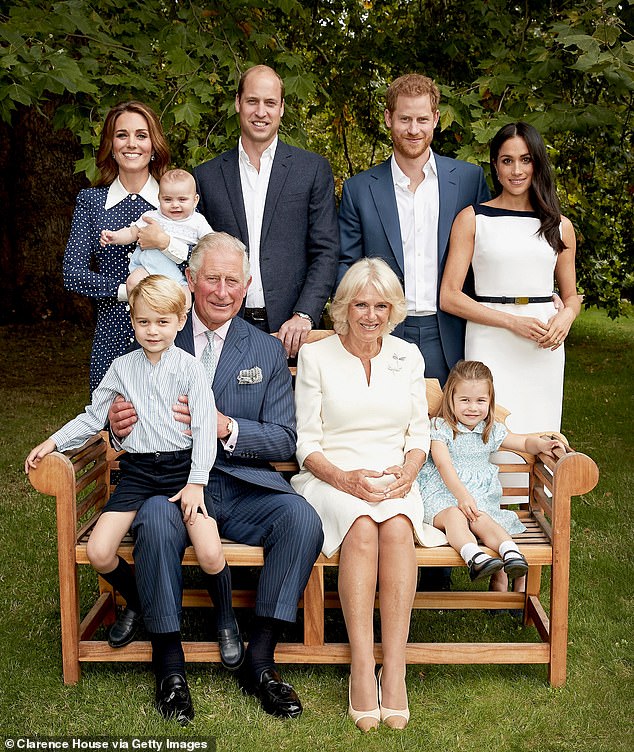 Prince Louis has been a photo for the first time since the royal baptism of the Royal Family's official portrait of Charles' 70th birthday.
Photographed the youngest member of the royal family, the first ivory blue La Coqueta Carlina boy ritual set, hand-stitched details, for £72.
The six-month-old costume paid tribute to his father, Williams, in a similar manner in 1983, wearing a blue-and-white smocked jumpsuit.
Kate, a 36-year-old loved one, can see the smiling portrait of Princess Diana holding her eldest son at Kensington Palace 35 years ago.
As everyone knows, the Duchess of Cambridge can wear the handicrafts and replicas of William's early wardrobe for her eldest five.
At the same time, Princess Charlotte wears a blue floral dress with a Peter's flat collar, which is the same as what he wore on the palace balcony in "Today's Colors" this year.
When she sat next to the 71-year-old Duchess of Cornwall, Camilla, three Charlottes showed a shy smile, and he occupied a central position in the family photo arrangement.
When Prince George was the oldest, he sat on Charles's knee and cut a lovely figure in Amaya. Wearing a long-sleeved undressed white shirt, the prince looked at every inch of the royal family, his blond hair swept to the side.
The eagle-eyed fashion lover will also recognize the fine black leather shoes he wore when he first spent £3,000 on studying at Frank's Battersea in London.
The Royal Observer follows George's fashion shoes – believed to be a £38.95 Moccasin shoe from the Spanish retailer Pisamonas.
The royal fashion blog Kate's Kids Wore contacted the brand on social media and asked if they were the makers of future king footwear.
Pisamonas UK replied: "Based on recent orders, we think it might be like this, yes."
The £38.95 leather is in black and blue tones and is described by Pismonas as "classic and elegant moccasins, of superior quality and easy to combine".
Charles officially wore a striped suit, a sky blue tie and loafers, and then looked at home with his family at home.
The 36-year-old Duchess of Cambridge, wearing a £1,750 polka dot dress designed by London designer Alessandra Rich, is holding Prince Louis, with a cute chubby smile.
The 71-year-old Duchess of Cornwall sits on his hips with his husband, wearing a cream-colored crepe dress by Fiona Clare, decorated with two pieces of Van Cleef & Arpels Libellule brooch, one set with diamonds and the other with sapphires, Charles Bought her as a gift.
The 37-year-old Duchess of Sussex wore a sleeveless Givenchy cream dress and was only eight weeks pregnant.