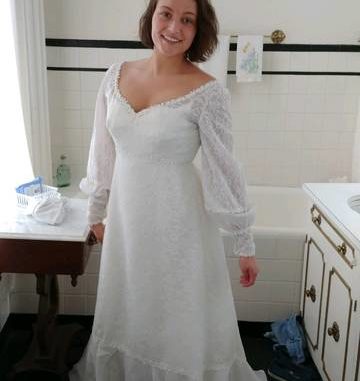 After the first Milohford Regional Historical Society held its first Oooh la la wedding dress boutique on July 21st, some vintage wedding dresses will once again land on the island.
The show was organized through GMAHS's PromontEvents.com program, which was launched three years ago to promote Promont's rental opportunities. Promont is a historic Victorian home at 906 Main St. in GATHS.
The event was the brainchild of the newly appointed event coordinator Kim Phipps. It provides the public with the opportunity to watch and buy new and softly used wedding gowns, and also showcases Promont as a venue for events and highlights GMAHS's links with local event providers.
Phipps explained: "I want to show people how we hold weddings, ceremonies, and how wonderful it is. I think this will be a good way, and we can do it under such a budget."
The event offers a range of products including:
– Approximately 25 new and gentle-to-use bridal gowns, ranging in size from 2 to 2XX, and a small portion of bridesmaid dresses, all of which can be purchased on-site.
– Appetizers and sampling from the supplier, including Chef's Choice Catering, Ms. Cheri's Donuts, Lehr's Prime Market, Tickled Sweet and Village Pantry Catering.
– Lottery, prizes include Big Daddy Walker's DJ service, Old Milford Bed&Breakfast gift vouchers, handmade garters and Two Stitches ring pillows, and oil paintings donated by Bernadette Martin.
All proceeds from the sweepstakes and apparel sales will be used for the care and maintenance of Promont and its venues.
Phipps' strategy for purchasing vintage dresses is to ask questions on Facebook.
All dresses come from local contacts who either donate their dresses to the cause or agree to sell them at the time of consignment.
The incident proved to be successful, so after two hours of opening the boutique, five pieces of clothing were sold.
"This is great," Phipps exclaimed.
The newly hired Rebecca Burton attended the event with her mother Nancy Burton. The two people living in Milford were frequent visitors to Promont, so when Nancy heard about it, she knew it might be a great opportunity for Rebecca to find a wedding dress for her wedding in September 2019.
"She always wants something unique," ​​Nancy told Rebecca. "We like antiques, and we always do."
Rebecca, who chose a vintage dress, explained how she knew she was finding the right dress.
"I know I want a lace dress without flash or pajamas, I want long sleeves," she said. "I just came here to see, I didn't even plan to buy clothes; I walked through it, looked around, grabbed a pair, and grabbed that one… It turned out that it was perfect for me. I didn't even I need to adjust it. I only know that this is mine."
She added: "I am honored to have an old-style wedding dress. I only like that; I really like retro, and my mother always said that I have an old soul, so it just means a little."
During the wedding, Phipps is surrounded by wedding dresses and future brides, and seems to be shining.
When she saw her vision come true, Phipps said: "It makes me cold; it makes me cry. Seeing these girls can find the dress they want and inspire them, it is really neat. It It's just full of my heart. It makes their dreams come true, make them happy and make me happy."