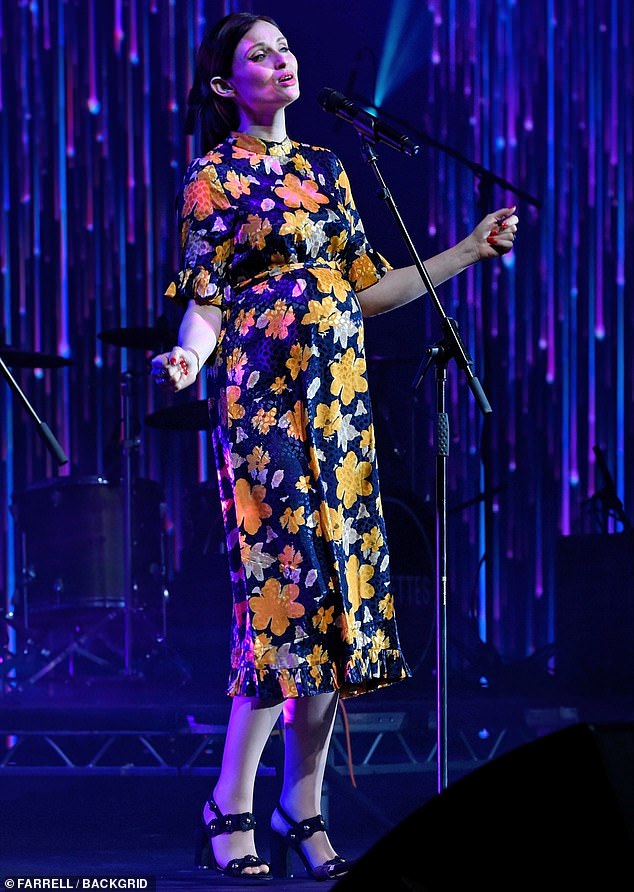 She is ready to welcome her fifth child to the world with her musician husband Richard Jones.
On Thursday night, when she attended the Audio and Broadcast Industry Awards ceremony at the First Direct Arena in Leeds, Sophie Ellis-Bextor showed off her beautiful baby.
The 39-year-old singer shows her styling in a vintage-inspired navy and mustard-colored mid-length dress, including a wrinkled hem and sleeves and an elegant high neck.
Murder On The Dancefloor hitmaker uses black high-heeled sandals with a beautiful dress to bring an energetic performance to the star-studded crowd.
The mother of four children slipped back from her face wearing her crow lock and highlighted her amazing features with a winged eyeliner and pink coral lipstick.
The musician confirmed that she was expecting her fifth child and 13-year-old husband to feel rock singer Richard Jones, who appeared in the BBC Radio 2 breakfast show at Chris Evans in August.
Sophie chose to discard her baby blockbuster while promoting her new album – describing her pregnancy as "spirit."
When talking about her new music and its release, Sophie left the audience because she announced that her album "Song Diary" will be released at the same time she is about to give birth.
In her interview, she remained quiet until her interview, Sophie revealed: 'The album will appear with my fifth baby at the same time because I have my fifth child. psychological! '
The people in the studio burst into applause, prompting the former Strictly Come Dancing star to laugh, and then claimed that she still didn't know if she would have a boy or a girl.
Sophie and her husband are currently parents of four sons; Sonny, 14 years old, Kit, 9 years old, Ray, 6 years old, Jesse, 2 years old.
Chris asked the pop star, if she became pregnant and became a parent, her birthday would be easier, and Sophie just replied: "No, I don't think so."
She continued to add: "You have become more relaxed in the chaos. We left Richard and me with five children, because our big brother brought a partner, I took a book that looks like I can do it. The most optimistic book!
"It's not even open – no babies. But I have a two-year-old child.
In an interview with the Independent, Sophie said that she believes that having a child has "helping her cause" rather than hindering it.
She explained: '[Motherhood] makes me a better performer, a better artist, a happier person. It is constantly evolving. For me, having my child is a huge deal for me. This gives me a different view of things.
"I won't say it's even harder. In fact, I think that in fact, a lot of things are very clear to me. If I don't become a mother, I won't do half of what I did.