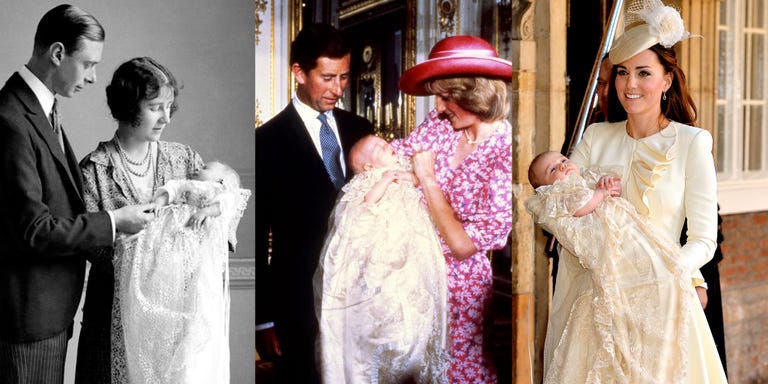 Inspired by the Queen's own wedding dress, this dress is made from white silk and handmade lace. Janet Sutherland, a miner from Falkirk, Scotland, made lace. Queen Victoria later stated in her diary that "Abbott and I agreed that everyone left in a very dignified manner."
This dress was worn by 62 royal members during the 163 years of royal service. From the first son of Victoria and Albert, the future of Edward VII, the five monarchs have been baptized in the dress. George V, Edward VIII, George VI and the Queen were all wearing white lace dresses, Prince Charles, Prince William and Prince Harry.
QUEEN VICTORIA AND THE FUTURE KING EDWARD VIII:
QUEEN ELIZABETH AT HER CHRISTENING IN 1926:
PRINCE CHARLES'S CHRISTENING IN 1948:
PRINCE HARRY'S CHRISTENING IN 1984:
PRINCESS EUGENIE'S CHRISTENING IN 1990:
---
Over the years, the dress has been carefully cared for – the agreement stipulates that after each ritual, it is washed with a spring hand and then stored in a dark room.
The last royal family member in the original dress was Mrs. Louis Windsor, Prince Edward and Sophie, daughter of the daughter of Wilshes, 2004. The Queen apparently decided that the dress had been retired and asked her private wardrobe consultant Angela Kelly to help make the reproduction.
Kelly works closely with craftsmen in the UK and Italy to get as close as possible to the original. (The team apparently left enough material for another dress if they needed spare or might need a royal twin.)
The first to wear a new dress was James, Viscount Severn, and the brother of Lady Louise, who was baptized in 2008. Since then, it has been worn by Savanna and Isla Philips, Lord Frederick Windsor's daughter Maud (together with George), Zara Tindall's daughter Mia, and of course George and Charlotte.
The baby's christening christening ceremony will be small – only a few dozen people will be there – but immersed in history like the dress he wore. Archbishop of Canterbury will be honored, he will use Lily Font, a silver-plated bowl that has been used by every Queen of the Baby since the Princess of Victoria in 1841 (you guessed it).
Stored in the Tower of London along with other crown jewels, the font will be taken to the St. James Palace for a special ceremony. It is decorated with putti and lilies, symbolizing purity, while Queen Victoria uses it instead of the fonts commissioned by Charles II in the 1660s. King Charles and his wife, Queen, have no children, but this baptismal font has been used for the baptism of his children and various mistresses. In fact, Queen Victoria apparently did not find salty taste.
Another royal tradition will surely continue for Prince Louis of Louis, who will receive water from the Jordan River, a place where John the Baptist personally baptized Jesus.
In 2015, water was provided for the christening of Prince Charlotte, but since Prince William had just made a historic royal tour in Jordan, he might bring back the baptism of the third child. Even for families as deeply rooted in tradition as the British royal family, personal style means everything.