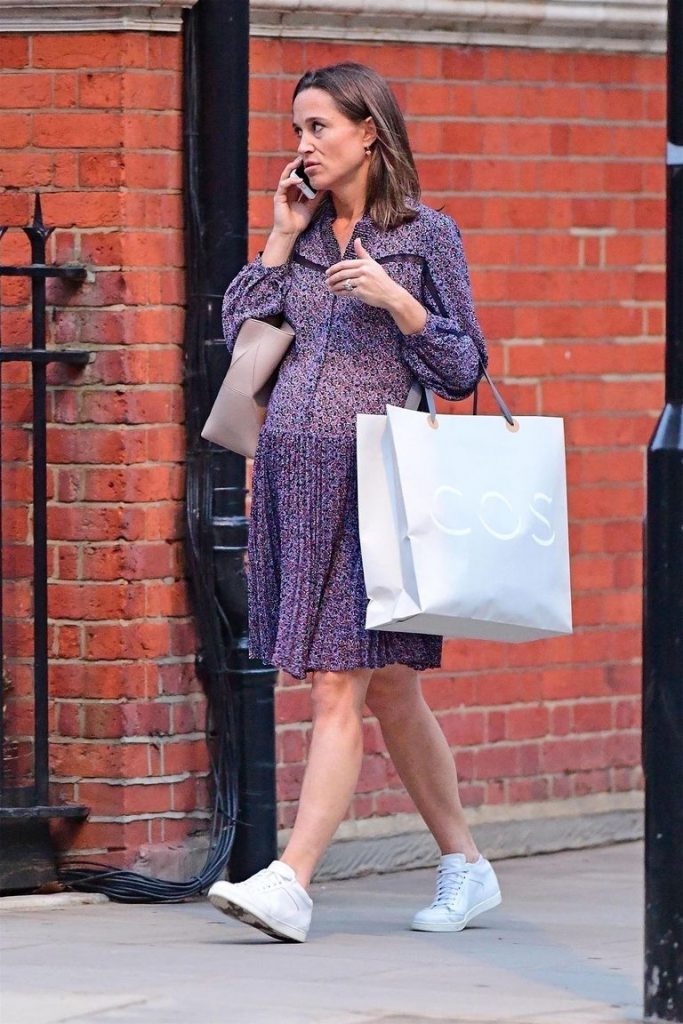 Pipa Middelton led her mother's sister-in-law style during her leisure outing in London yesterday. According to reports, the expectant mother who will be welcoming her first child this month saw a purple printed dress in the city's Chelsea community.
Her chiffon dress is designed by Claudie Pierlot with a small paisley print and a pleated skirt. Pippa paired this dress with trendy white sneakers and nude handbags while carrying Cos shopping bags on the street.
Three years ago, Pipp's sister, Kate, wore a similar look when she was pregnant with Princess Charlotte (the second of her three children). In a public appearance in February 2015, the Duchess of Cambridge wore a purple floral dress and visited the Goring Hotel in London. The appearance occurred three months before the Duchess gave birth to her daughter.
Kate's purple print maternity dress is also knee-length long sleeves, but it has a bolder pattern with colorful flowers. As she was working, she wore a naval pump and a small clutch to complete the equipment.
Pipa followed her sister's footsteps during pregnancy instead of guiding her pregnant woman's wardrobe. According to reports, she also admitted that Kate's tradition is not to learn the gender of the baby before birth. E Duchess of Cambridge and her three children, E! News report.
Young Middleton also seems to be giving birth in the same hospital as her sister. Last week, she was found in Lin Duoyi of St. Mary's Hospital for inspection, which is where Kate gave birth to three children.