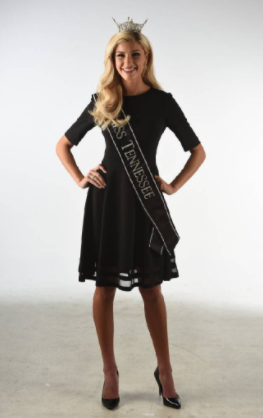 It's hard to imagine Christine Williamson being bullied.
The University of Tennessee's University of Chattanooga graduate student – and the current Miss Tennessee – is flat and intelligent, and her life is not always so neat. She remembers that, in fact, her middle school students are very miserable.
"I am not welcome," said the 23-year-old Memphis native. "I remember when I was in the ninth grade, I had short hair. I dyed it pink. I have braces. I feel uncomfortable."
Williamson, a former home school student, said she was enrolled in a strict Memphis private school in the eighth grade and immediately felt like a fish without water. For a moment, she will have lunch with an adult English teacher to avoid eating.
"No one will sit with me," she recalls. "This is a sad situation."
Was she bullied?
"Of course," she said.
At the same time, Christine grew up near her home business, the Memphis demolition company and the scrap yard. She tied her hair into a bun, put on a hard hat, and posted the demolished place with her father. She also worked in the office to write receipts for customers who bought salvaged bricks and other recycled goods.
When she was 17 and graduated from high school, Christina's father persuaded her to guide her competitiveness by trying some scholarships in the Memphis area. She said that he likes evening dresses the most. She recalled that once she saw her wearing a rhinestone dress, he became so excited that he wanted to weigh it.
"Do you mean [weighing] like a fish?" She remembered answering without trust.
Her first beauty pageant was the beginning of a five-year trip, and she eventually won the championship in Miss Tennessee, Jackson, Tennessee in June.
Then, last month, she represented the volunteer country in the Miss America contest in Atlantic City, New Jersey, and became the only finalist in 2018 to be shortlisted for two scholarships. So far, she has received nearly $50,000 in college tuition from the beauty contest, and she is currently pursuing a master's degree in business administration from UTC.
Christine also raised more than $30,000 to help the Alzheimer's Association. One of her grandfathers died of Alzheimer's disease at the age of 19 and is now the state of Tennessee policy platform in Tennessee.
She recalls that at the beginning of her beauty pageant, the 17-year-old Christine competed with a seasoned player who grew up in a beauty culture in Miss Tennessee. This is a wave of high-heeled shoes. However, her trump card is a conversational and beautiful vocal performance. High school rhetoric classes and years of phonetic lessons have improved her self-confidence and stage performance.
Soon, she regularly participated in the beauty contest of Miss Tennessee, and entered the top five three times before winning this year. Under the banner of Miss Chattanooga, the city has become her second home.
The memorization of Memphian, who won the state race as Miss Chattanooga, was not lost to her. She remembers having experienced a box of event souvenirs and lingering in the game to Miss Tennessee, Tennessee, the predecessor of UTC student Chandler Lawson, who entered the top 10 in the Miss America Beauty Contest. name.
After winning the runner-up in Miss Tennessee in 2017, Christina moved to Hamilton County, Miss Stephanie Wittler (formerly Miss America) to help me get closer to this year's beauty pageant. She said that Vitler told her that she was only present in the moment and "doing it all out."
When her coronation moment came, Christine said she tried to accept Vitler's advice, but for the most part, she just focused on not stumbling her clothes or crying – or "ugly crying", just like at the event. As said in the world.
"How amazing it is, how it fits together," she said. "This is a five-year effort."
Since becoming Miss Tennessee, she has visited the four corners of the volunteer country. For example, she knows that driving in the state can take up to 9 hours. She often meets with state and federal legislators to provide more funding for Alzheimer's research, and she hopes to eventually become a lobbyist.
At the same time, she enjoyed the duties of Miss Tennessee, who did not want to give up her crown next summer. Since she has spent many years winning, she thinks she deserves a little extension.
"How about five years of preparation, five years of crown?" she joked.
Ten years ago, she was a sad little school girl. Today, she is Christine Williamson, smart and shiny Miss Tennessee.