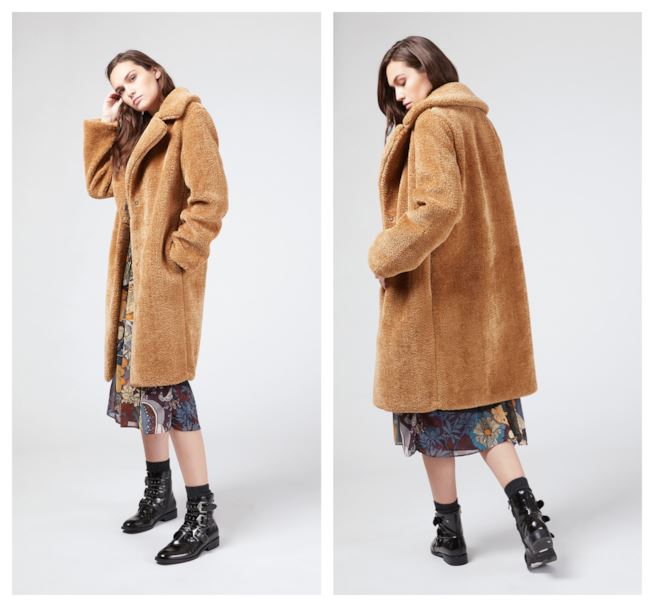 Furs, what a passion but they are ecological. Yes, because the autumn winter 2018 fashion embraces ethics, respect for the environment and the defense of animals. On the other hand even the designers in their ready-to-wear collections have opted for synthetic fur garments.
The example comes from Donatella Versace who preferred to abandon the real ones. It is not the only one. Even Giorgio Armani, Gucci, Michael Kors, Elisabetta Franchi did the same – just to name a few.
Super soft, synthetic furs are a real obsession. For the colder months you have to have at least one to show off both with the casual city looks and the more elegant ones. The classic are undoubtedly declined in the nuances of the earth: from beige to brown, with tips of cognac and rust. From the "teddy bear" effect.
In the picture the beige faux fur coat by Motivi. For example you can combine it with a midi-patterned dress – the flowers and the animalier are a confirmation for the autumn months – and a pair of ankle boots that reach the ankle. For a romantic look, but without losing sight of the comfort represented by the shoes.
The model combines it with a midi dress with multicolored flower print. The alternative is represented by high-waisted jeans or a pair of cropped pants that leave the ankle completely uncovered. In fact, you must have at least a couple in your wardrobe to show off from day to night.
Shoes and accessories play a fundamental role. The white sneakers, for example, are trendy and complete the outfits designed for the morning – practical and comfortable -, while for the evening both over-the-knee boots – up to the knees – and the pumps are fine, for an elegant and sophisticated look.
Here is the ecological fur of Vero Moda available on the Yoox e-commerce site. Perfect with jeans, it can also be worn with pleated midi skirts in shades of burgundy that dominates in the Fall Winter 2018 collections.