Elegant, feminine, minimalist and sophiscated all describe the style of Taylor Swift. Taylor takes the term chic to heart and can often be caught by the paparazzi in monochromatic, minimalistic stylings, with added pops of colour whether in the form of sky high heels that accentuate her insurance worthy legs or unique handbags to carry her signature red lipstick. Her style always pleases her fans, fashionistas near and far, and creates Instagram and style goals daily. Taylor's style has evolved from printed handkerchief dresses and cowboy boots (in her early days on the music scene as a teen country singer) to flirty dresses and sky high heels. The style icon and squad leader, as she is recognised today, pulls inspiration from vintage design elements, punk rock garments and everything in between. Even when she is not gracing the red carpets of music awards or on the only Monday in May that matters at the Met Gala, the leggy blonde is capable of looking chic each and every time she steps out in public. Amidst the clearly chic elements of Taylor Swift's style, there is one key point that stands out – her fashion is always wearable and relatable. Taylor has been able to create daily looks that her fans, followers and anyone really, can go out, search for and re-create. In one way or another anyone can take inspiration from her and add a bit of T-swift into their wardrobe.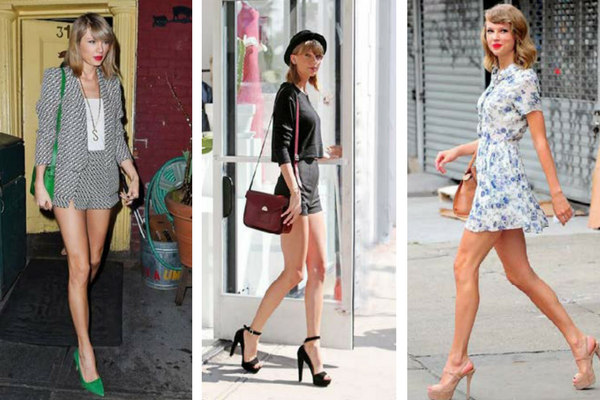 Mondays are undisputedly described as the hardest day of the week. However, just because you might not want your weekend to end, doesn't mean you can't start the week in a sleek Taylor inspired outfit that's bound to get you some positive attention. So, let's start with something simple and 100% Taylor Swift approved – Dresses. T-Swift herself has said that she loves dresses. Dresses are an easy all in one outfit, easy to pick out and a simple hassle free way to get into to the groove of the week and shake off the Monday blues. From flowy and printed to solid and tailored, dresses are a sure way to get your outfit ready swiftly, leaving you a bit more time on those dreaded Monday mornings.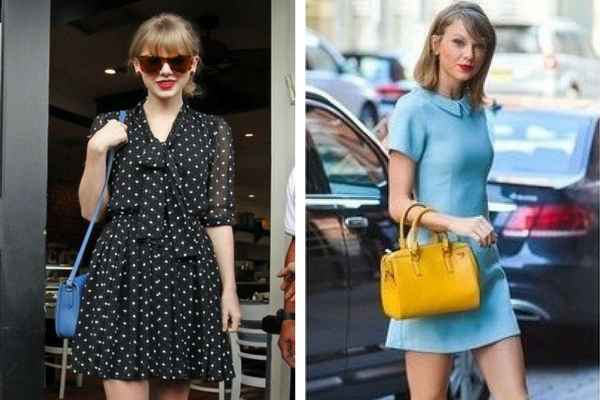 By Tuesday most of us have accepted that we've had to leave the weekend behind and actively participate in the week. Flirty femininity is another factor which is integral to the iconic Taylor Swift's style. Wearing her flirty side smirk, Taylor can be regularly caught in flowy skirts, skater dresses, printed cords and heels of any height or form. These style decisions help the 22-year-old stay true to her age, her body type and her style personality, and can be adapted to help you smile a bit brighter on any given day and elevate your Tuesday style level.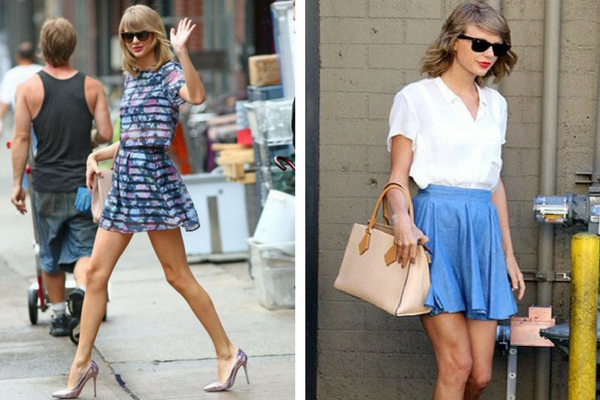 Wednesdays, the mid-week madness has probably set in. However, you can get those endorphins pumping and enjoy that natural happy high with a bit of mid-week cardio or yoga class, and who said you can't be chic while getting your sweat on? When she isn't up high on her heels and catching all the boys' attention in her super flirty skirts, you can catch Taylor in some of the few outfits she rocks flats with. Making sure to keep her slender physique in perfect form, Taylor heads to her work-outs in neon trainers and somehow seamlessly balanced gym attire. Monochromatic tones on some days and paint splatter leggings on others. Pairing leg long and thigh length bottoms with monochromatic simple sports tops, means that the swift's legs are always on display and she stays true to her style aesthetic.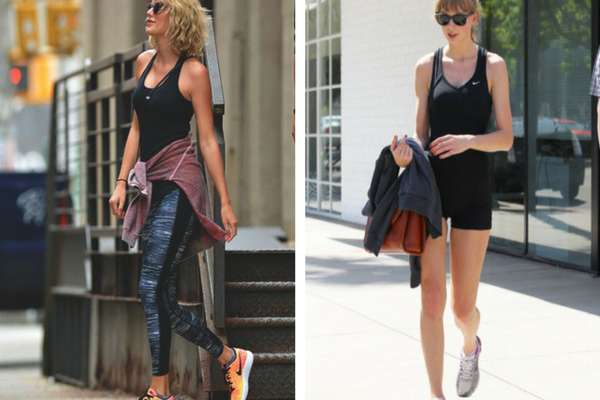 The weekend is almost upon us but not quite yet, Thursday is still in the way. That doesn't mean that you can't keep up your style and feel proud of your outfit of the day. Another aspect that Taylor loves to integrate into her fashion is tailoring. Tailoring can be such a great way to add a bit of sophistication into your wardrobe, which might help you walk a bit taller and command that morning meeting, or even add some confidence to your morning walk to collect your coffee. Powersuits, structured jackets, slim fit blazers and steamed seamed trousers can come in all shapes, sizes colours and prints and Taylor has worn them, and so can you.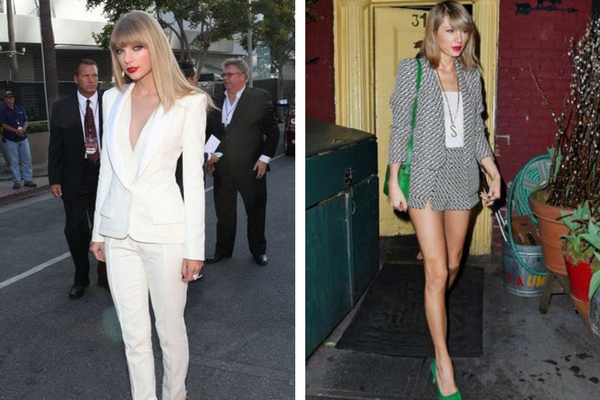 Friday is officially here (yay!) and that usually means you can dress just a tad more casual for work today in preparation of meeting the girls for some after work drinks and your weekly gossip catch up! If Taylor's Instagram is any indication, she sure knows how to have a good time, how to document it with perfection, and how to dress for the occasion. A T-Swift night out definitely includes killer heels, a bold lip and possibly some shorts, a leather skirt or a glittery dress, all showing off the legs of course. However, she has also been known to rock chic high waisted trousers and a bare mid-section. The possibilities are truly endless for a good Friday night out look when tapping into Taylor's style repertoire.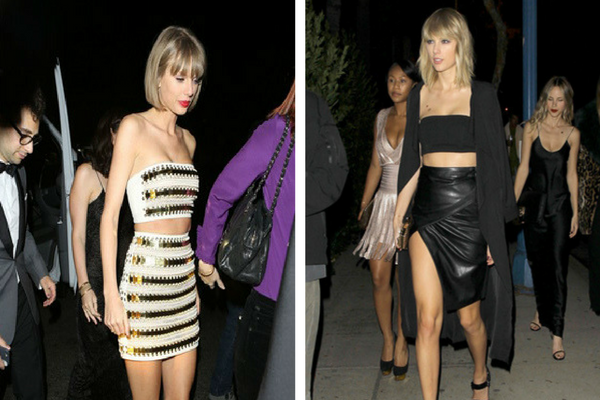 Saturday is the day of brunches, farmers' markets and sleeping in. After a good night out a good brunch is standard along with a couple errands of course. Casual chic, comfy outfits are the order of the day. Denim, jumpsuits, hats and some hipster vibes can be on the menu if you are taking any inspiration from our resident leggy blonde today.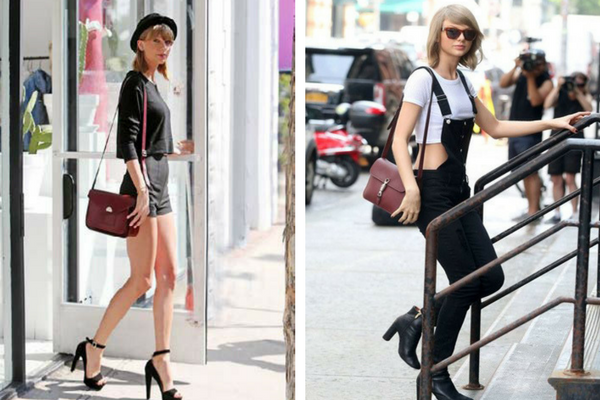 Sunday, the day before another week starts that always comes too quickly. Chill and relax on Sunday afternoons in your super comfy jumpers and endless cups of tea. If you do need to pop out and leave the comfort of your sofa, there is no reason to take off your loungewear. Just take Taylor's style as an example and pair your comfy jumper with dark jeans or tights and some cute ankle boots and you're ready for the world. If you want to add some class to your last day of weekend freedom, you can just throw on a printed poncho to seal in your effortless chicness.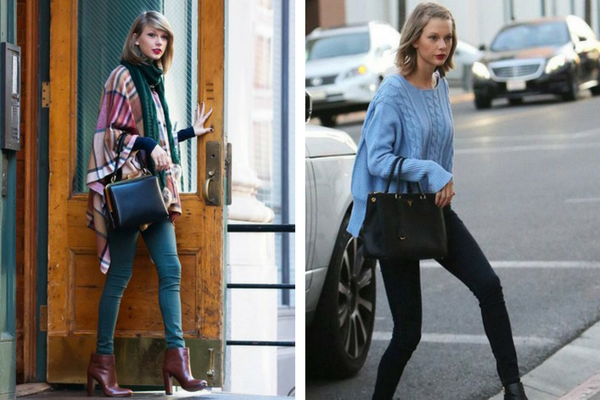 Shorts, dresses, pantsuits oh my! It is clear that apart from being pop songstress and squad leader, Taylor Swift can add street style icon to her list of titles. Her style always seems to hold an air of chicness and sophistication, no matter where she goes. The ability to pull off this level of effortless fashion is commendable and while the average girl may not have all the resources at her disposable as T-Swift does, her fashion is so simplistic in many ways that many girls can easily draw inspiration and apply it to their daily lives. Let us recap our Taylor Swift style basic checklist. Firstly, one must always be rocking a pair of heels in any way, shape or form, Secondly, a bold lip will never quit. Thirdly, a contrasting coloured handbags to move your outfit from every day to street style slay, and finally always wear your style with confidence.